Planning a trip to Aspen with your family can be an exciting adventure filled with promise and anticipation. But anyone who has traveled with children knows that the journey can also be full of unpredictable challenges. That's where Aspen WayToGo Transportation comes into play. With our private car service, we strive to make your Aspen trip as seamless and enjoyable as possible, especially for those traveling with kids. Let's delve into the details of how our service can ease your travel woes.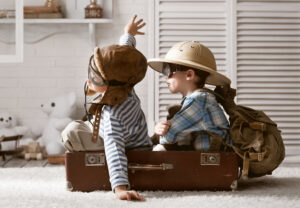 Child-Friendly Amenities
At Aspen WayToGo Transportation, we understand that kids, just like adults, appreciate their comfort. This understanding is reflected in our vehicles, which are equipped with a range of child-friendly amenities. From child safety seats to entertainment options like music and age-appropriate videos, we've got your little ones covered. These amenities ensure a fun and secure ride for your kids, providing peace of mind for you as well.
Experienced, Child-Friendly Chauffeurs
When it comes to traveling with kids in Aspen, patience and understanding are vital. Our professional chauffeurs are not only experienced drivers but also well-versed in managing young passengers. They understand that children may have special needs and requests, and they are trained to respond with patience and a friendly smile. This creates a stress-free environment for you and a pleasant experience for your children.
Spacious and Comfortable Vehicles
Traveling with kids often means traveling with a lot of stuff – from strollers to diaper bags, toys, and extra clothes. Our vehicles offer ample space for all your family's luggage without compromising your comfort. The roomy interiors allow your children to stretch out, play, or even take a nap, making the ride more enjoyable for them and more relaxed for you.
Flexible and Accommodating Service
Aspen WayToGo Transportation offers flexible and accommodating services tailored to suit the dynamic needs of families. We understand that when you're traveling with kids, schedules can be unpredictable. Our service takes this into account, offering flexibility in pick-up and drop-off times, and the ability to accommodate last-minute changes.
Safety-First Approach
Safety is our utmost priority at Aspen WayToGo Transportation. We understand that traveling with kids requires an extra layer of safety precautions. Our vehicles are fitted with the necessary safety features, including high-quality child safety seats. Our chauffeurs are trained in safe driving practices, ensuring a secure ride for you and your family.
Local Knowledge
Aspen is a beautiful city with plenty of kid-friendly attractions. Our chauffeurs, being local experts, can offer advice on the best places to visit with your kids, be it the Aspen Center for Environmental Studies, the Silver Queen Gondola, or the best family-friendly restaurants in town.
Stress-Free Sightseeing
Sightseeing with kids can be a daunting task, especially when it comes to transportation. Our private car service eliminates this stress, offering a comfortable ride to and from Aspen's numerous attractions. With our service, you can focus on creating beautiful memories with your family, rather than worrying about navigating unfamiliar roads.
Easy Booking Process
Aspen WayToGo Transportation offers a simple and efficient booking process. You can book your car service in advance via our website or a quick phone call. This means one less thing to worry about in your trip-planning process.
Traveling with kids doesn't have to be a stressful experience. With Aspen WayToGo Transportation, your family trip to Aspen can be a fun, memorable, and hassle-free adventure. Our private car service in Aspen is designed with the comfort and safety of your family in mind, ensuring an enjoyable travel experience for all.
Contact Aspen WayToGo Transportation today and let us take the stress out of your family travel plans. Our commitment to excellence and customer satisfaction sets us apart in the industry. With Aspen WayToGo Transportation, you're not just booking a ride; you're investing in a premium travel experience that prioritizes your family's comfort, safety, and enjoyment.
Aspen WayToGo Transportation; Private Car Service
Personalized Travel Assistance
Beyond just transportation, we offer personalized travel assistance. Do you need help with your luggage? Or perhaps a local's insight into Aspen's hidden gems? Our professional chauffeurs are at your service. Their local knowledge and dedication to service excellence ensure that you receive top-tier care from pickup to drop-off.
24/7 Customer Support
We understand that when you're traveling with kids, questions and concerns can arise at any time. That's why we offer round-the-clock customer support. Whether you need to modify your booking, have questions about our services, or need immediate assistance, our customer support team is just a call away.
Privacy and Discretion
Traveling can be tiring, and we understand that sometimes, you and your family might just need a quiet, peaceful ride. Our chauffeurs respect your privacy and ensure a discreet service, allowing you and your family to relax, unwind, or even catch a quick nap between your adventures in Aspen.
Streamlined Billing
With Aspen WayToGo Transportation, you don't need to worry about handling cash or haggling over prices. Our rates are transparent, and we provide streamlined billing with multiple payment options, including major credit cards and mobile payment apps. This allows you to manage your transportation expenses efficiently and hassle-free.
Traveling with kids to Aspen need not be a daunting task. With the right support, it can turn into an incredible adventure that your family will remember for years to come. Aspen WayToGo Transportation provides that support, making your family's comfort, safety, and satisfaction our top priority.
From our child-friendly amenities and spacious vehicles to our experienced chauffeurs and flexible service, we are committed to ensuring your family's travel experience is nothing short of exceptional. With our easy booking process, personalized travel assistance, and 24/7 customer support, we take the stress out of your family's travel plans.
So why wait? Contact Aspen WayToGo Transportation today, and let us elevate your family trip to Aspen into a seamless, enjoyable, and memorable experience. We're confident that once you choose our service, you'll wonder how you ever traveled any differently.